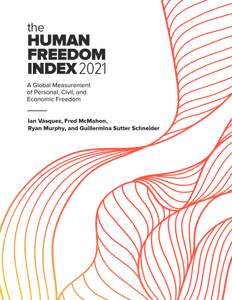 The seventh annual Human Freedom Index, now available free online, is the most comprehensive measure of freedom ever created for many countries around the globe. The index, co-published by the Cato Institute and the Fraser Institute in Canada, ranks 165 countries based on 82 distinct indicators of personal, civil, and economic freedom, using data from 2008 to 2019, the most recent year for which sufficient data are available. The data does not yet reflect the social and political effects of the COVID-19 pandemic, but shows worrisome trends. 
Since 2008, 83% of the world's population has seen a decline in freedom. That includes decreases in overall freedom in the 10 most populous countries in the world, including the United States. Only 17 percent of the global population lives in countries that have seen increases in freedom over the same time period. From 2018 to 2019, 82 countries decreased their ratings and 67 improved. The largest declines globally occurred in the areas of freedom of expression, freedom of religion, and freedom of association, assembly, and civil society.

Switzerland tops the rankings this year, followed by New Zealand. The United States ranks 15th. It ranked seventh in 2008.

The findings in the HFI suggest that freedom plays an important role in human well‐being, and they offer opportunities for further research into the complex ways in which freedom influences, and can be influenced by, political regimes, economic development, and the whole range of indicators of human well‐being.