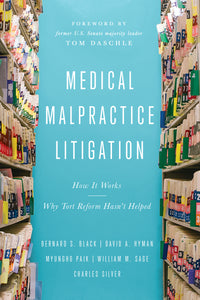 "Drawing on an unusually rich trove of data, the authors have refuted more politically convenient myths in one book than most academics do in a lifetime."

—NICHOLAS BAGLEY, professor of law, University of Michigan Law School

 Over the past 50 years, the United States expe­rienced three major medical malpractice crises, each marked by dramatic increases in the cost of malpractice liability insurance. These crises fostered a vigorous politicized debate about the causes of the premium spikes and the impact on access to care and defensive medicine. State legislatures responded to the premium spikes by enacting damages caps on noneconomic, punitive, or total damages, and Congress has periodically debated the merits of a federal cap on damages.
Yet the intense political debate has been marked by a shortage of evidence, as well as misstatements and overclaiming. The public is confused about answers to some basic ques­tions. What caused the premium spikes? What effect did tort reform actually have? Did tort reform reduce frivolous litigation? Did tort reform improve access to health care or reduce defensive medicine? Both sides in the debate have strong opinions about these matters, but their positions are mostly talking points or are based on anecdotes.
The authors, all experts in the field and from across the political spectrum, provide an accessible, fact‐​based response to the questions that ordinary Americans and policymakers have about the performance of the medical malpractice litigation system.
PRAISE FOR THE BOOK
 "Written by the team that has done the most extensive work testing the empirical claims behind medical malpractice reform legislation, Medical Malpractice Litigation is a must‐​read for anyone willing to be persuaded by the evidence."
—TOM BAKER, William Maul Measey Professor of Law, University of Pennsylvania Carey Law School, and author of The Medical Malpractice Myth
"Medical Malpractice Litigation provides a hard‐​headed, empirical analysis of medical malpractice reform.… Their compelling analysis cuts through the dueling ideologies, interests, and talking points that too often drown out rational consideration of this topic."
—JASON FURMAN, professor of the practice of economic policy, Harvard University, and former chairman of the Council of Economic Advisers
"The authors—and their pathbreaking work—reflect the best of empirical legal scholarship and supply scholars, policymakers, and citizens with essential information on and insights into how the medical malpractice system actually works."
—MICHAEL HEISE, William G. McRoberts Professor in the Empirical Study of Law and coeditor of the Journal of Empirical Legal Studies, Cornell Law School
"Synthesizing decades of their own and others' research on medical liability, the authors unravel what we know and don't know about our medical malpractice system, why neither patients nor doctors are being rightly served, and what economics can teach us about the path forward."
—ANUPAM B. JENA, Ruth L. Newhouse Associate Professor of Health Care Policy, Harvard Medical School
"[A]n essential read for those engaged, in any form, in the design and implementation of our medical malpractice system."
—JOANNA C. SCHWARTZ, professor of law, UCLA School of Law
"Anyone interested in medical malpractice must read and understand this book before making public pronouncements. The authors show that the facts support none of the favorite, facile arguments about medical malpractice and its crises."
—MATTHEW L. SPITZER, Howard and Elizabeth Chapman Professor and director, Northwestern University Center on Law, Business, and Economics, Northwestern University Pritzker School of Law